10 Amazing Wedding Favour Ideas in Ireland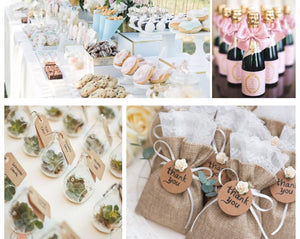 Finding the perfect wedding favour can be quite a balancing act. You have to find a unique wedding favour idea that will be remembered by your guests for years to come, while also fitting in with your theme and budget. If you are searching for inspiration, you're at the right place. Whether you prefer your wedding favours to be a keepsake favour, or an edible option, keep reading for some amazing ideas!
Miniature Irish Whiskey or Pink Gin
What could be more Irish to give your guests than a miniature of Irish Liqueur as a wedding favour? Irish Whiskey is an iconic liqueur globally. If you are having a destination wedding in Ireland, this would be the perfect gift to give your guests. Small bottles of Irish crafted Pink Gin will also be a romantic wedding favour idea. With a customised printing on the glasses or packaging, it would make them a keepsake favour as well as an enjoyable drink. How great is that!
Tiny Honey Jar
Sweet and long lasting. Just like the love between you and the lucky groom. A little jar of honey has always been a popular wedding favour. There is this pun "Meant to bee" that has been widely used by couples around the world due to the fact that it is a true description of the love between them. It also would be a fun quote to be put on the label together with your names, making the jar an absolute keepsake for your guests!
Flip Flops
Putting in the extra mile to take care of your guests' comfort, a pair of flip flops would be much appreciated when they want to stay on the dance floor. How good would it be when you can just kick off the heels and put on a pair of flip flops for dancing til the night ends? This will be especially fun and come in very handy when you are having a beach wedding. Customise the flip flop by choosing your favourite colour and get your initials and wedding date printed on the flip flops to make it more special! 
Lotto Tickets

Lotto tickets or lucky scratch cards have long been two very popular wedding favours in Ireland. The idea behind it is to celebrate the vow the newly weds have exchanged - "for richer or for poorer". It also has the meaning to share the luck to everyone on a loving and romantic day.
Mulled Wine Spice Mix for Winter Weddings
If you are having a winter wedding, a sachet of mulled wine spice mix would be an awesome idea as wedding favours to give. Due to the content of spices in it, mulled wine has always been a very comforting and warm drink in Ireland. Giving away mulled wine mixes can add a warm touch to your winter wedding. Needless to say, the magical nostalgic effect the mulled wine has will keep your wedding as a great memory alive in everyone's heart.
Sachets of Sweets for Kids
Making sure every guest enjoys your wedding party is important, but the young guests are easily overlooked. It is almost inevitable to have kids at your wedding, that's why it is worth investing in some wedding favours specifically for your young guests. A goodie bag that has a variety of sweets, finger toys, and lollipops will be something the kids truly enjoy. Placing the goodie bags on each child's seat will definitely surprise them!
Irish Handmade Candles
Candles have long been a popular choice of wedding favours. Choosing an Irish brand that does handmade and artisanal candles would be an extra touch to make your wedding favour more special. You can even go a step further to choose the scent that resembles the scent of your wedding candles. This way, you'll be creating a nostalgic effect when your guests light up their own after the wedding. What an exceptional idea!
Customised M&M's Chocolates
A lot of couples like giving out chocolates or other confections as their wedding favours. Why not give out one that can be customised? With the famous M&M's, you can personalise your M&M's chocolates by choosing the colour, the print, whether you want to do texts, dates, or even your own faces on the little chocolate buttons. They even offer different types of wedding packaging such as test tubes, tiny champagne bottles, etc. It is such an unique wedding favour choice and momento for your guests to indulge in.
Hangover Survival Kits

A fun and thoughtful wedding favour idea is hangover survival kits for your guests. Ensuring your guests to enjoy themselves also means they will be drinking lots of great wine. Throw in some mints, candy or protein bars, painkillers for headache, etc. These small gifts being packed inside the kit can also be used or eaten even if your guests are not hungover. For those who are, they will definitely appreciate this "care basket" that you gifted.
Mini Succulents
Plants, including flowers, can be more than just the wedding bouquet or your wedding decoration. Mini potted plants have been more popular recently in Ireland to give as wedding favours. Mini succulents are especially popular due to the fact that they can survive extreme weather conditions and are easy to take care of. They also signify the long lasting love between you and your soon to be husband or wife.
Leave a comment
Comments will be approved before showing up.