Beautiful Wedding Makeup 2016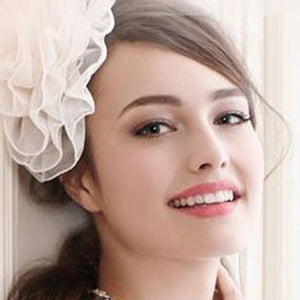 Wedding makeup style is always something to consider in advance, if not doing your own make-up trials are essential. We would also advise that you do get a specialist for your wedding day as you may be quite excited or overwhelmed by the tasks of the morning. There are so many options for your makeup, this can be influenced by the style/era of your dress, hair style choice or your face shape. 
It is advisable to wear a white blouse or tee-shirt when going for your makeup trial, this will give you an insight into how your make-up will look with your dress colour.  If you do decide you will be doing own your make up on the day, most importantly you will need products that will last out the days events. Some useful tips would be to use a primer to prep your skin, eye primer stops eye-shadows settling into any creases and also keeps it in place all day and setting spray is such an amazing product, the same way artists use sprays to set their paintings the same goes for your make-up. 
Long lasting foundations, oil free or without SPF would be the best types to try, they work best in photos, dewy formulas can just make the skin look oily after a few hours and SPF can sometimes have a white chalk effect in photographs making you look quite pale. If you want to add some bronze and shimmer to your look, highlighter can do this for you. Dot across the cheekbones, cupids bow and the top of your eyebrow bone where the shape starts to descend. It is also vital not to use too much and remember practice makes perfect ! Concealer hides all manner of sins but if using under your eyes do not use too much or it can look quite cakey.
So whether you decide to go with red scarlet lips and winged liner, natural make up or some bright colour, take your time and try many looks, Pinterest & Instagram are always good tools in finding a variety of makeup styles. 
We personally love the subtle, fresh faced natural look, eyes defined with blended eye-shadow in earthy tones, lightly blushed cheeks and pale pink or nude lips.
Leave a comment
Comments will be approved before showing up.