Wedding Hair Styles for Short Hair so don't despair !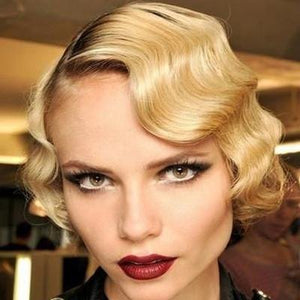 There are various misconceptions about styling short hair for weddings, there are always options and different ideas, talk to your hairdresser as they may already have some simple styles up their sleeve. We have put together some images of short wedding hair styles we adored.
You can opt for sleek side styles or classic waved tresses and headbands and side pieces tend to really compliment shorter hair.  Birdcage veils are so effortlessly beautiful and romantic with shorter styles. There is also a wide range of headpieces available on clips, these pieces are easily managed and grip the hair really well. Short hair does not equal less volume so don't be afraid to try something different. Pinterest really is a great start if you are not sure exactly what you would like yet.
Up-styles are also manageable with shorter hair and can create amazing shape and volume. There is also the option of an unadorned pixie hairstyle complemented with pearl drop earrings for an understated look. Brides with shorter hair can really experiment with their make up and lip colour too.
If you do decide to do your own hair, try using some texturising sprays or create volume with a small curling brush, there are so many videos on You Tube with tutorials to try. As always we would advise leaving it to the professionals, you deserve to be pampered on your special day!
Image 1 
http://stylecaster.com/beauty/15-wedding-hairstyles-short-hair/#_a5y_p=948449
Leave a comment
Comments will be approved before showing up.