2019 Real Weddings - Lisa & Brian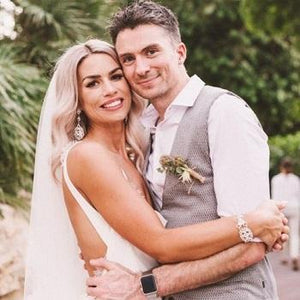 We would like to share with you the beautiful wedding of one of our real brides Lisa. Lisa wore a custom pair of statement earrings and our Aeveen bracelet. We asked her all about her wedding day, and she kindly shared with us some insight into her wedding to Brian and all the days delights. Thanks Lisa for sharing! 
Can you tell us where did you meet and can you tell us a little bit about the proposal?
We had our first date in Winter Wonderland (Hyde Park, London) Christmas 2014 (Dec 19th), although, both from County Louth, we met in our local nightclub 10 years before that!

3 years to the date, back in Winter Wonderland in Hyde Park, Christmas 2017 (Dec 19th) we got engaged. We returned to London every year since we met to Winter Wonderland and that year I was not expecting a proposal!!! For someone who usually has their nose stuck in everything, I was totally shocked and blown away! Brian is a plumber and made the engagement ring from some copper piping and stuck a Penney's "diamond" earring on top!! I loved it...until it turned my finger green, the very next day! 
Where did you get married and why did you chose the venue?
We got married in beautiful Dubai, on Oct. 30th 2018 at the Five Star Jumeirah Beach Hotel, in their outdoor "Sunset Garden" Lawn. We always said we wanted a marriage, not a wedding, so for us it was about celebrating with our closest friends and family, in a small, intimate location, far enough away so that only our nearest and dearest would want to travel to it! We had guests travel from all over the world travel to Dubai to celebrate with us; from Sydney, Melbourne, China, Texas, London and of course Ireland. A big Irish wedding wasn't for us, we wanted something different, more relaxed and less formal. Not a wedding cake, nor a fully covered hotel wedding chair, nor round function table or conference room in sight, instead we replaced these with vintage sofas, luxury arm chairs, bistro tables, rugs and cushions, free flowing champagne & beers, during our "Sip & Be Seated" Lounge Style Ceremony, almost like saying our vows in an outdoor siting room setting sharing a glass of bubbles amongst friends.
Emotions were running high, having the small intimate group of our closest friends and family meant there wasn't a dry eye in the place! Or maybe they were fragile from the night before!!! JUMEIRAH Beach Sunset Garden in Dubai really is one of the most romantic and outstanding locations in this world - saying our vows in the garden over looking the iconic 7 star Burj Al Arab - what a backdrop!
Can you tell us about your dress?

It was the Katie May "Barceclona"  Dress, from California, purchased in Ivory & Pearl in Comber, Northern Ireland. For our destination wedding in the sun I wanted a relaxed, beautiful light gown but with glamour and sexiness.
Dubai is uber stylish and I wanted my dress to represent that. It was always going to have to be backless too (my husband loves a good back haha). Not a pearl or an embellishment in sight, just a few delicate pieces of lace, I loved the simplicity and yet dramatic wow of it. 
What was the most memorable part of your day?
The lounge style ceremony (it was very emotional!) and the after party later that night on the beach, on the sand, in Beach Lounge (part of the Jumeirah Hotel) which is just under the Burj Al Arab in the little hours of the morning where our friend Bobby serenated us with his voice and guitar. It was one of those moments where myself and Brian, looked at each other to ask "is this really happening?"
What was the one thing you wanted your guests to remember from the day?
How much it meant for us that they were part of our special day and we wanted to treat them to a once in a lifetime experience. "I've never experienced anything like that before and pretty sure I never will" is how one of the guests described it. It felt like an amazing holiday away with friends that we never wanted to end.
What Jules piece did you wear and why did you chose it?
I wore two statement pieces of jewellery from Jules on my wedding day - earrings and bracelet,with my dress being quite elegant (and not fussy!) and with us being in Dubai, I loved going dramatic and glamorous with my jewellery.
 
My 4 gorgeous bridesmaids and my beautiful Mother all wore Jules earrings also. I chose Jules as we had also worn Jules earrings for my sister Aisling's wedding 4 years previously - our jewellery got so many compliments and I have literally worn those earrings to every special occasion since. Jules jewellery is so special and was perfect for my wedding day. 
Tell us a bit about your experience with Jules Bridal
Visited with my bridesmaid Claire and loved every minute of our experience there. We dealt with Jules herself and the care we got was incredible.
We left with more than just the wedding jewellery, everything is just too beautiful to leave behind!

When you look at your Jules piece now, what do you think of?
I think stand out. My jewellery was stand out for me. I loved it. Thank you so much for creating such beautiful and different wedding jewellery pieces out of the bridal norm!
Leave a comment
Comments will be approved before showing up.