Statement Wedding Earrings, do or don't?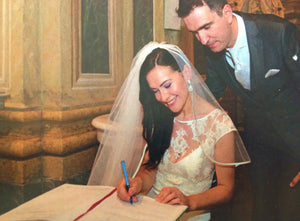 Whatever your mood, style, outfit or budget, there are statement earrings out there that make you happy the moment you put them on. We remember the earrings we wore on first dates and on special occasions and, let's be honest, we can always find an excuse to treat ourselves to a new pair! When it comes to your wedding earrings, the stakes are a little higher but don't worry, we're here today with our top tips to help you choose the perfect pair…
You'll be wearing your statement earrings all say so not only do they need to be beautiful they need to be practical too. If you don't often wear long drop earrings it might be a good idea to wear your earrings at home behind closed doors for a  few days to be sure you get on with them.
Consider any other accessories you'll be wearing or the details of your wedding dress when choosing your earrings. If your dress has embellishments, you might like to opt for earrings that coordinate with them.
Don't forget that your whole outfit should be balanced, if you want to wear a glamorous pair of statement earrings, don't rush to wear lots of other accessories, alternatively if you opt for subtle wedding earrings you can then choose to wear lots of other pieces too, our
Alisha, Freshwater Pearl Silver Earrings
are perfect for this.
Try on your earrings along with your headpiece or veil to make sure everything works together. We always recommend trying your whole outfit on before the big day so that you know you're totally happy with the entire look plus it gives you a good idea of how long it will take you to get ready on the day.
How you are wearing your hair will also have an impact on your choice of an earring. Statement earrings work really with an updo, or alternatively you could choose a pair of large studs or droplet earrings. If you're wearing your hair down, long statement earrings are perfect as this will allow them to sparkle through your tumbling tresses. Also if you're wearing your hair up, think about the back of your wedding earrings because they'll certainly be seen, like our
Savoy Romantic Chandelier Earrings.
Before choosing your own earrings, decide if you'd like your bridesmaids or Maid of Honour to be able to wear earrings that coordinate with yours. We can provide a similar style in different designs so you can all have a similar look as the rest of your bridal party without matching completely.
The statement earrings you choose for your wedding day are going to be forever special so don't keep them hidden in your jewellery box. Wear them as often as you like and enjoy your wedding earrings for years to come.
At Jules Bridal Jewellery we have a wide range of statement earrings for you to choose from or alternatively we can create a bespoke pair just for you - Get in touch to discuss your bridal jewellery wishes.
Leave a comment
Comments will be approved before showing up.