Top 8 Wedding Dress Styles for 2022 Brides in Ireland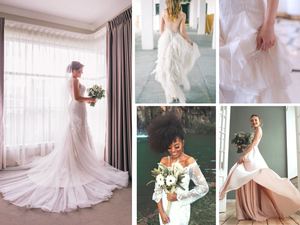 Some brides know from day one of their engagement the type of wedding dress they will wear on their big day, but like a large number of brides to be, you are likely to have a wedding dress wish list of all the styles you want to try on. Bridal Fashion Week had no shortage of wedding dress trends for brides to choose from, but if you are looking for the highlights we have brought together the top 8 wedding dress styles of the year for you to choose between, from short and chic to layers and ruffles there is something here to suit every bride to be…
Table of Contents
Here are some of our top picks for wedding dress styles:
Ball gowns
If you are a fan of royal weddings then this style of wedding dress is the one for you. If you're looking to make an entrance, consider opting for a classic ball gown— and there are plenty of them in the 2022 collections of many wedding dress designers. The best thing about this attention-grabbing silhouette is that it is actually surprisingly versatile and works for most wedding styles. Go full-on Grace Kelly with heavy satin or Elizabethan with billowy sleeves. No matter the details, this voluminous style is sure to turn a few heads.
Matching with the beautiful ball gown, check out our Classic collection of jewellery that can adorn your look like nothing else can do.
Ruffles and layers
If ever there's a time to indulge your inner hopeless romantic, your wedding day is it—and it doesn't get more romantic than these frilly, ultra-feminine details. A ruffled and layered skirt adds dimension to a mermaid silhouette. A  full skirt of frothy, cascading ruffles is both whimsical and fashion-forward. If you're on the hunt for a dress with some added flair but don't want the hassle of a full skirt or long train, look no further than a gown with light multi-layered skirt, perfect for twirling without the heft of a ball gown.
To make the dramatic effect of the layering even stronger, opt for jewellery with more details such as our Atalie Earrings and Inga Earrings can enhance the overall look.
Lightweight Wedding Dresses
Airy dresses are in, from streamlined ball gowns to sheer sheaths, light-as-air gowns are incredibly popular for brides. Effortless fabrics like tulle and organza give off a gorgeous ethereal vibe without any additional bulk, so you can hit the dance floor without stressing about tripping over your gown or feeling weighed down.
Pair your lightweight dress with our dainty Ariel Freshwater Pearl Drop Earrings or Alisha Teardrop Pearl Earrings to glow up the look!
Short Bridal Dresses
If you're going for a very casual wedding vibe or you are just looking for a good excuse to show some leg and a killer pair of shoes, then this 2020/21 wedding dress trend is for you. You could even go all out and have a full-length gown for daytime and a short dress for the evening celebrations, or kick off the celebrations by wearing a short bridal gown for your bridal shower, leaving no one with any doubt who is the bride to be.
Wearing a set of garters in your short wedding dress can adorn the overall look, also to keep the Irish tradition.
Check out our collection of Bridal Garters here.
Sparkle
Bring on the bling, with some glitz and glitter. A touch of sparkle is nothing new where bridal fashion is concerned. Over-the-top sequins, tonal beading and metallic embellishments are perfect for the bride who wants to make a big impression, but if you're rocking a gown with lots of sparkles, keep your accessories simple and let your glitzy gown do all the talking.
Align the sparks with some of our sparkling jewellery sets such as Alina Earrings & Pendant, and hair adornments like our Acanthus Headband.
The Bow
Going for a statement piece? A large bow is the go! Some brides would like a more fitted and classic fabric for the dress to add a touch of sophistication and simplicity. A large bow is here to make the statement for you. Many designs we see in 2022 have oversized bows to add the glam to turn the simplicity into a chic and memorable class. It's such a romantic and yet very classy choice of wedding dress. Bring in the bow!
To bring out the most of the bow, explore our hair drapes to add a touch of sophistication to the look!
The Puffy Sleeves
The puffy sleeves wedding dresses are not just a trend in 2022 but they are here to up the game! Puffy sleeves can come into different sizes, textures, shapes and materials. Adding an eye-catching effect? Yes please! And what can make it even better? A lot of the puffy sleeves are detachable! With a slight change of the bridal jewelleries, the bride can take them off at any time to transform into another look!
To set off the extraordinary wedding dress, go for the hair accessories that are more dainty! Explore our Hair Pins collection for some inspiration!
The High neckline
The high neckline wedding dress that Lily Collins was wearing in her wedding has made so many noises last year. The bridal dress runway has never been limited by statement pieces, vintage inspired wedding dresses are also making a comeback! Grace Kelly's wedding gown will always be an iconic bridal dress. This year, the high neckline is going to be on top of the trend. Celebrities like Lily Collins and Paris Hilton have brought the understated neckline style back to the spotlight. And it looks like it's going to stay!
Make sure to check out our bridal jewellery and hair accessories to match with your beautiful vintage high neckline wedding gown!
Leave a comment
Comments will be approved before showing up.