Top 8 Wedding Venues For Civil Ceremonies In Ireland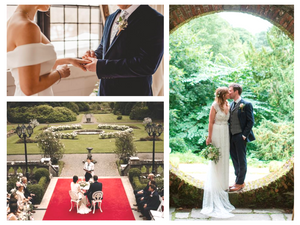 Choosing the perfect venue for your civil ceremony can be tricky as any location in Ireland where they are held must be legally authorised by the Health Service Executive (HSE) Civil Registration Service. This article will introduce you to some of the most incredible wedding venues in Ireland that are ideal for a civil ceremony and have received the HSE's official seal of approval. You are sure to find the perfect location for your big day, whether you are looking for a contemporary hotel or a mediaeval castle.
Table of Contents
The top 8 wedding venues for civil ceremonies in Ireland are, in no particular order:
The Shelbourne Hotel in Dublin
In the midst of Dublin's city centre stands the elegant and renowned five-star hotel, The Shelbourne. Opened its doors in 1824, The Shelbourne has a rich history and has accommodated a variety of well-known guests over the years, such as authors, politicians, and celebrities. The hotel offers a wide range of fashionable locations for civil ceremonies, such as the grand ballroom, the luxurious drawing rooms, and the serene Victorian gardens. With its excellent service, delicious cuisine, and picturesque settings, The Shelbourne is the perfect setting for a chic and memorable wedding.
Details
Address: 27 St. Stephens Green, Dublin 2, Ireland D02 K224
Contact Phone: +353 1 663 4668
Contact Email: sales@theshelbourne.com
The Lodge At Ashford Castle
Located in the beautiful Mayo countryside, The Lodge at Ashford Castle is a magnificent and historic location. It is situated on the banks of Lough Corrib and surrounded by 350 acres of gorgeous gardens and parkland. The lodge offers a number of exquisitely decorated and elegant venues for civil ceremonies. Among them are the lavish ballroom, the cosy drawing room, and the peaceful riverfront garden, all of which offer a breath-taking backdrop for your big day.
Details
Address: The Lodge at Ashford Castle, Cong, County Mayo, Ireland, F31 YC85
Contact Phone: +353 (0) 94 954 5400
Contact Email: reservations@thelodgeac.com
The Fernhill House Hotel
In the stunning Clare countryside, the Fernhill House Hotel is a quaint and inviting establishment. The hotel, which is situated on 10 acres of exquisitely landscaped gardens, provides a stunning venue for wedding celebrations. The elegant Garden Marquee, which is now available all year round for civil ceremonies, is especially popular for couples as a choice for intimate weddings. The Fernhill House Hotel prides itself on its warm and friendly service, delicious food, and beautiful surroundings, making it the perfect choice for a small and affordable but yet memorable wedding venue.
Details
Address: Fernhill House Hotel, Clonakilty Hotel & Gardens, Clonakilty, West Cork, Ireland, P85 X322
Contact Phone: +353 23 8833258
Contact Email: info@fernhillhousehotel.com
Ballynahinch Castle
Ballynahinch Castle is an unique and exquisite venue that offers a selection of chic and lavish locations for civil ceremonies. It is tucked away in the beautiful Connemara landscape. For smaller celebrations, the Hunt's Room may accommodate up to 60 people. The castle also provides a marquee on the grounds or in the walled garden for those who want a larger ceremony. The different options in the venue accommodate different wedding budgets and sizes.
Details
Address: Ballynahinch Castle Recess Connemara, Co. Galway H91 F4A7 Ireland
Contact Phone: + 353 95 31006
Contact Email: info@ballynahinch.com
Adare Manor
Amid the heart of Ireland, on the banks of the shimmering River Maigue, is a fairytale castle situated in 840 acres of gently sloping parkland. Providing a lovely setting to start your new life together, Adare Manor offers the Walled Garden that makes a particularly wonderful location for an outdoor civil ceremony throughout the summer. One of the stunning suites can be transformed into a classy ceremony area for intimate weddings, and for grand celebrations with up to 200 guests, The Grand Ballroom offers a breathtaking setting for your exchange of vows.
Details
Address: Adare, Co. Limerick, Ireland.
Contact Phone: +353 (0) 61 605 200
Contact Email: info@adaremanor.com
The Mustard Seed at Echo Lodge
In the modest and prosperous rural village of Ballingarry, County Limerick, lies The Mustard Seed. There isn't a better place for romance than The Mustard Seed that is perched on the hill above the village. The house and grounds are the ideal location for your big day due to its exclusive and secluded ambiance. You can be certain that your civil marriage ceremony is special whether it is a small, private celebration for just the two of you or a big banquet for up to 80 guests. The Mustard Seed is one of the most upscale wedding locations in Limerick and can accommodate civil unions, which can host both your wedding ceremony and reception there.
Details
Address: The Mustard Seed at Echo Lodge. Ballingarry, Co. Limerick V94EHN8
Contact Phone: +353 69 68508
Contact Email: info@mustardseed.ie
Markree Castle
There are five venues available, including two indoor and three outdoor wedding venues at Markree Castle, which are registered for civil ceremonies and partnerships. The Chapel at Markree Castle is the only on-site chapel in an Irish castle, and it features lovely stained-glass windows and an old church organ. This would be the perfect location if you have always dreamt of having a conventional church wedding. Among the grand décor of the Grand Hall is another alternative for an indoor ceremony. It's a wise decision to hold blessings and rituals for Spiritualists and Humanists in this small but impressive setting. There are also outdoor options such as the castle terrace, the landscaped forest and the manicured gardens, which offer different types of natural backdrops respectively.
Details
Address: Collooney, Co. Sligo, Ireland, F91 AE81
Contact Phone: +353 71 916 7800
Contact Email: info@markreecastle.ie
Bellingham Castle
Bellingham Castle gives you the opportunity to design the castle wedding of your dreams thanks to its laid-back atmosphere, gorgeous gardens, and award-winning castle accommodations. Bellingham Castle offers a variety of indoor spaces for wedding ceremonies of all sizes, accommodating up to 200 guests. In the breathtaking Bute Suite, you can exchange vows beneath sparkling crystal chandeliers. Alternatively, you can hold your ceremony outdoors and say "I do" while gazing out at the manicured grounds from the pergola.
Details
Address: Castle bellingham, Co. Louth, Ireland, A91 RP44
Contact Phone: +353 42 937 2176
Contact Email: info@bellinghamcastle.ie
Leave a comment
Comments will be approved before showing up.