Vroom Vroom: Navigating Wedding Car Costs in Ireland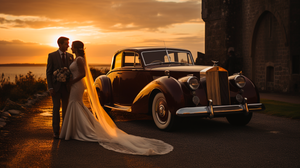 A stylish and elegant wedding car not only adds a touch of luxury to your special day but also makes for some stunning photos. Whether you picture yourself gliding away in a magnificent Bentley or are more of a Rolls Royce kind of person, your wedding car is likely one of the most stylish journeys you'll ever take. Keep reading as we explore the intricacies of wedding cars in Ireland, from car hire prices to the positives and negatives of all the options.
The Numbers Game: How Many Wedding Cars Do You Need?
Deciding how many wedding cars you require depends on your wedding party size and personal preference. A single, elegant wedding car can act as a statement piece, while having a fleet of cars can add an extra touch of glamour and grandeur. Most couples typically opt for one main wedding car to transport the bride and groom, with additional cars arranged for the bridal party, immediate family and any special guests if needed.
What Kind of Car Should You Choose?
Selecting the perfect wedding car is a matter of personal preference and style; however, some of the most popular choices for wedding cars in Ireland include classics like Rolls-Royce and Bentley as well as vintage cars such as a timeless Volkswagen "Love Bug" Beetle or a charming, old-school Ford. Sleek, modern limousines are also swiftly coming back into fashion.
Behold the Bentley
Of course, when it comes to making a grand entrance and a stylish exit, few cars rival the timeless allure of a Bentley. But the question on everyone's lips is, how much does it cost to hire a Bentley for your wedding day? Bentley wedding car hire prices in Ireland can vary depending on the specific model and package you choose, including factors such as duration of car hire and location. On average, a standard wedding car hire costs between €250 and €600, while a premium choice like a Bentley is more of an splurge ranging from €600 to €1,500 and up.
Rolling Royalty
Not a huge fan of Bentleys? Rolls-Royce is also a symbol of luxury and sophistication, making it another popular choice for weddings. Similar to a Bentley, the cost of renting a Rolls-Royce for a wedding in Ireland ranges from €600 to €2,000, again depending on the specific model and rental package.
Lavish Limousines
Popular through the '90s and early 2000s, limousines are fast coming back in style. After all, they epitomise glamour and extravagance – and who doesn't aspire to this on their wedding day? The cost of hiring a limo as your wedding getaway car can range from €300 to €1,000, depending on the size and style of the limousine. Arriving in a stretch limo allows you to make an unforgettable entrance; it's also a practical choice that provides ample space for the bridal party.
The Price of Nostalgia
For couples seeking to bring vintage charm and something a bit more unique to their special day, a classic car is the way to go. Vintage cars exude an air of nostalgia that can transport you and your guests to a bygone era, and the cost of renting a vintage model as your wedding getaway car can range from €300 to €800, depending on the model, age, rarity, and condition of the vehicle – as well as how long you need it for.
A Charming Coach
If you're planning a larger wedding and want to ensure all your guests travel in style, consider renting a bus or coach. Not only is it a practical and cost-effective option – it's also a great way to make sure everyone arrives on time and leaves your wedding safely. The cost of hiring a bus for a wedding in Ireland can range from €400 to €1,000 or more, depending on the size of the bus, the distance it needs to cover, and how long you need it.
How Much to Budget for Wedding Transportation?
When creating your wedding budget, allocating funds for wedding transportation is essential. On average, couples in Ireland set aside around 3% to 10% of their total wedding budget for transportation as a reasonable guideline; however, remember that premium options like a Bentley or Rolls-Royce wedding car hire may require a higher budget.
The Ideal Wedding Car Colour
Just like your bridesmaids outfits, you have a world of options when it comes to selecting the colour of your wedding getaway car. Classic white or elegant black are timeless, sophisticated choices; alternatively, you can opt for a colour that matches your wedding theme, personal style, the ambience you're hoping to create, or even the season.
As you embark on the journey towards your big day, keep in mind that selecting the perfect wedding car is an exciting part of that journey and will contribute to all the wonderful memories you'll create. Whether you opt for a classic Bentley, an elegant Rolls-Royce, a charming vintage car or a stylish limousine, your choice of transportation will also serve as a reflection of your love story.
Ready to get dressed and drive away? Finish your wedding day look with bridal accessories, including hair combs, drop earrings and more from Jules Bridal.
Leave a comment
Comments will be approved before showing up.